The Bonn N8 Pro is an audiophile's go-to network switch. Enhanced with interference-reduction and clock-precision techniques, the Bonn N8 Pro is dedicated to optimizing sensitive high-frequency audio system networks. Cable organization also becomes easier thanks to the widened 5mm space between each of the eight 1um-gold plated GbE ports, allowing better signal and usability.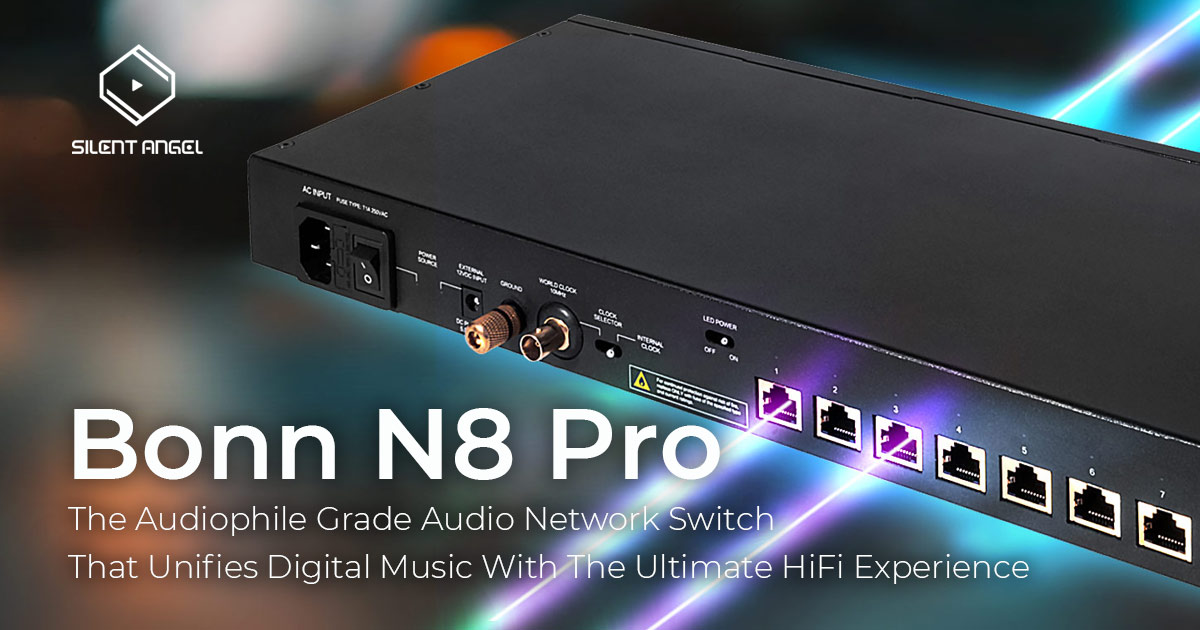 "The Bonn N8 Pro not only serves audiophile quality networks by improving the signal performance in a high-frequency audio system, but also possesses versatile subtle upgrade methods for users' benefits. Discover optimal sound quality with the Bonn N8 Pro, fun yet pro, your ultimate Hi-Fi experiences await," quotes Chorus Chuang, the CTO of Silent Angel.
By adopting a Radar Grade power module, a highly efficient DC/DC converter and a low-rippled LDO regulator circuit on the power board, the Bonn N8 Pro presents a low 28mV(Vp-p) power signal when compared to regular switches whom present at 122mV(Vp-p). Moreover, users can see one of Silent Angel's signature features, a high-permeability EMI absorber, that is effectively embedded within the entire power board to diminish electronic noise (ranges from 1M to 18GHz).
impressive clock-precision. Specialized with 0.1ppm with high thermal stability, the advanced model Bonn N8 Pro-CLK uses a BNC interface 10MHz world clock input that further synchronizes the clock signals.
The Bonn N8 Pro will be available globally on March 31.
For more product information: Silent Angel Bonn N8 Pro
Find a dealer near you: Where to Buy
Bonn N8 Pro Product Specification
Gold-plated 1000Mbps Ethernet port*8.
Power input (AC) IEC 100-240V, 50/60Hz, (DC) 12V/08A at max.
Upgrade with Silent Angel Forester F2 linear power is available.
10 Watts maximum power consumption.
Clock input switch, (internal) Silent Angel's specialized 0.1ppm TCXO, (external) BNC interface 10MHz world clock.
Ground connector, to connect to an external ground box or ground.
LED indicator switch, manually control the on/off status of LAN ports.
Curious about Silent Angel's Hi-Fi lineup? Visit: www.silentangel.com